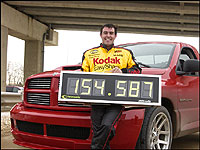 Just as the world starts to realize that Dodge has forever changed the face of things to come by introducing the new record holding fastest production truck, they set the bar a little higher by introducing the latest viper powered SRT-10 in a quad cab!
Even though the Dodge Street and Racing Technology (SRT) series truck looks like a regular series 1500 truck with a little bit of body molding, that's where the similarities end. This truck was designed from the ground up to be the definitive sports truck with a Viper engine and finely tuned sport suspension dampened by Bilstein and in 2005, available in a four seater version.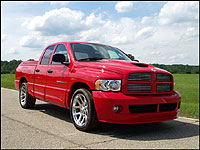 That's right, in 2005 Dodge will add the quad cab model to the the SRT-10 truck line, meaning that not only will this truck out perform most anything on the road, but you can do so with at four passengers or a full load of groceries.
Tags: Performance, Sport Trucks, Dodge
Comments:
comments
Category: News